KJ Luker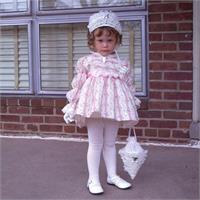 KJ LUKER has been a Pilates teacher for 20 years. She is an artist and a writer and an adoring mom, and she loves to learn all the time. She also loves chocolate.
Because KJ is committed to education, she is currently enrolled in The Upledger Cranio-Sacral Therapy certification. She has Pilates certifications through the Physical-Mind Institute, BASI Pilates, and The Pilates Center of Boulder. She has studied with some of the illustrious Pilates "elders" and 2nd generation teachers including Kathy Grant, Lolita San Miguel, Jillian Hessel, Rael Isachovitz, Kathy Corey.
KJ owned a Pilates studio for 10 years, which was one of the first in the country to incorporate a full Physical Therapy facility into a Pilates studio. At her studio, KJ was one of the creators of a comprehensive Pilates teacher training program. She was also the co-creator and teacher in the Heart of Pilates video series. The Heart of Pilates pledge special created for PBS raised over $750,000 in less than 3 months for various PBS stations.
KJ is a huge fan of Joseph Pilates and his remarkable understanding of the human body, and is therefore a classical Pilates teacher. She is attentive to the foundations of Pilates, especially breath, alignment, and the uniform development of the whole body...and a quiet mind. KJ has a life-long commitment to creativity and Pilates and yoga and hiking and swimming and weight-lifting and potato chips. And love. Ain't life grand?
Teaching Style:
KJ emphasizes classical Pilates sequences with attention to detail, breath and precision. She is seamlessly able to challenge students to their own best efforts in a class setting. She loves Pilates and it shows.
KJ Luker instructs the following:
The most popular of all Pilates classes. Dynamic, controlled movements in this class improves flexibility, builds strength and develops control and endurance throughout your body. Emphasis on alignment, breathing, developing a strong core, and improving coordination and balance.